Please take a few minutes to learn more about us through these FAQs. Please call us at 1-800-759-6960 with any questions you may have.
Crime Scene Cleanup Training FAQs
Hoarding | Extreme Cleaning FAQs
Many factors must be considered before we can provide you with a cost for cleaning your home. For example, we will need to determine how many dumpsters we will need, which can cost in excess of $500 for each dumpster.  We will also need to know how large the home is and whether or not a basement and/or garage needs to be cleaned as well.  Based on our 15 years of experience cleaning homes affected by hoarding, the average cost is $4,500.  Again, based on your unique situation, the overall cost may be more or less.
Of course we will.  During our conversations prior to arrival at your home, we will spend time to determine what items are important to you, what items should be kept, what should be donated and what should be thrown away.  We will create a staging area in the home to set aside all personal items, keepsakes, momentoes, important documents, valuables, etc.  In addition, we will work with you to sort and organize clothes, dishes, boxes and other items in your home.  Generally speaking, we do not throw away anything without your approval; however, we will strongly encourage you to part with items that we feel are simply in the way or taking up valuable space.  Feel free to speak with one of our adjusters at 1-800-759-6960 to discuss your unique situation.
Depending on the extent of your unique hoarding situation, it could take up to five (5) days to fully and completely clean your home.  In less severe cases, we may be able to complete the cleaning project within three days.  Regardless, we will do our best to work with your schedule and to complete the cleaning project in a manner that does not interfere with your daily routine.
Yes, our team will arrive at your home (or place of business) in an unmarked white Ford F-150 extended cab pickup truck. We are very discreet and will make every effort to protect and respect your privacy.
Yes, our technicians and adjusters are extremely discreet and confidential. We will only work with family members and friends you provide us authorization to interact with.  No outside agencies or individuals will be notified or informed of our business relationship unless a court order compels us to do so.
Yes you may be at home while we clean, sort and organize. However, it's not uncommon for home owners and/or hoarders to unintentionally prolong the cleaning process, thus adding to the total cost of the project.
Yes, we would be more than happy to help you, even if you're not a hoarder.  We offer general cleaning, sorting and organization services that you may be interested in learning more about.  Please feel free to contact us at 1-800-759-6960 for more information.
In most situations, our team can start your cleaning project within four (4) days of receiving a down payment.
While Bio-Trauma 911 does not offer a finance program, we do accept financing through Paypal. Qualifying through Paypal is a quick and free service. Once qualified, Paypal will let you know how much you can spend and provide you with the payment options.
If you do not qualify through Paypal or wish to pay for the project without financing, Bio-Trauma 911 requires the following:
1/2 payment of the proposed cost before day #1
1/2 payment of the remaining amount due halfway through the project
The remaining amount (25%) will be invoiced when the project is complete with terms of Net 21
Crime Scene & Biohazard Remediation FAQs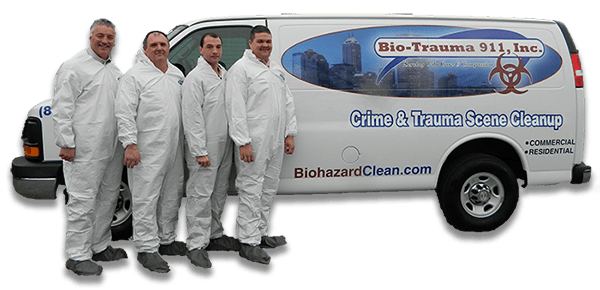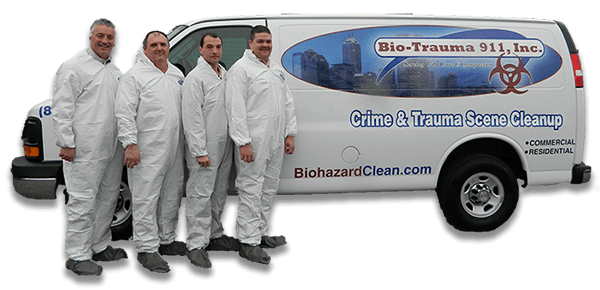 Meet Our Team
Since 2005, our management team and staff of biohazard remediation technicians have worked tirelessly to learn about and improve upon the wide variety of services we offer.  Our team is professional, well-trained and fully insured.  We know the industry but, more importantly, we know how to help YOU!
Photos of Our Team & Their Work
Although our teams are typically too busy to take photos, we do occasionally take the opportunity to photograph them at work
Memberships & Organizations
We will typically contact you within a few hours to discuss your needs.  If you're in need of immediate attention, please call us at 1-800-759-6960