You can start a crime scene cleanup business for less than $5,000.  We know it can be done because Bio-Trauma 911, Inc. was started with about $3,000!
On average, crime scene cleanup technicians earn between $25 to $55 per hour. Business owners charge $135 to $300 per hour for each technician.  These rates will vary depending on the geographical location of the business.
Much of your business will be done with insurance companies, which are typically good payers and repeat customers.
Many of our students receive their first job within days of completing our class.  Start advertising, let people know you're in this business and the work will come!
The Average Bill Rate in the Biohazard Remediation Industry ranges from $135 to over $300 per hour, depending on your geographical location
If you're interested in starting your own Biohazard Remediation and Hoarding Cleanup Business, please click the link below to learn more.
Bio-Trauma 911, Inc. was established in 2005 and is owned and operated by an Indiana Law Enforcement Officer and a disabled US Military Veteran. Our one of a kind crime scene cleanup training course has been attended by students from as far away as the Middle East, South America, Africa and Canada. You won't find a more comprehensive course than the one we provide. Reserve your seat soon, as they don't last long and we only take eight (8) students per class.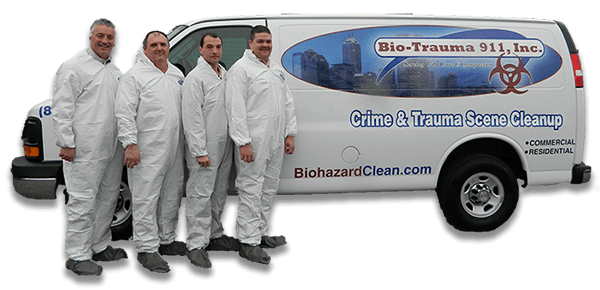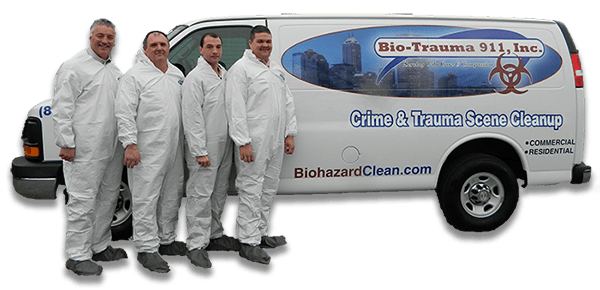 Meet Our Team
Our management team has worked together since 2005.  We know the industry but more importantly, we know how to help YOU learn this business!
Course Dates | Curriculum | Pricing
We will typically contact you within a few hours to discuss your needs.  If you're in need of immediate attention, please call us at 1-800-759-6960