Join Our Network of Cleaning Professionals and a Program Built Around Success!!
We're more than just a network, we're a support team with networking capabilities. So, what's that mean? The team at Bio-Trauma 911 has been running small businesses since 1994. That gives us nearly 30 years of experience in success! And it also gives us a whole lot of experience to share with you, even if you currently own a business.
If you're new to business, especially in the biohazard remediation industry, you're in the right place. This program was initially launched for NEW business owners. Now, with the networking and business leads feature, we're expanding it to existing business owners. With or without experience, you'll fit right in!
Do I have to clean up blood and body fluids? Absolutely not! While our training course does teach crime scene cleanup and biohazard remediation, it also provides training in compulsive hoarding cleanup & other extreme cleaning scenarios, such as animal hoarders and fecal matter.  Many businesses in our industry make most of their money by responding to calls for extreme cleaning services. Don't take the bloody jobs if you don't want them!
Well first, you need a business. This can be anything from a corporation to a sole proprietorship.  If you wish to receive business leads from us, you'll need to maintain business insurance. Since this is an unregulated industry, there aren't many rules we need to follow.  Here's some other benefits of this industry:
No college or formal education required

Minimal startup costs

Work from home!

Make your own hours

Incredible profit margin
If you need help starting a business or need training, we're here to help. Just click this link to visit online crime scene cleanup course.
What is the Benefit of a Network?
We created this crime scene cleanup business network to help companies compete against the large franchises that are present in our industry. If you're anything like we are, you don't want to be a part of a franchise and want nothing to do with franchise fees, right?  You don't want to be restricted to a certain geographical area and you certainly don't want a "parent" company telling you what you can and can't do.
Although franchises may not be all that bad, they're certainly not built for all of us. Yet, the thought of being part of something bigger has its advantages. Having an experienced company in your corner that can help with advertising and business leads can be an important asset. But what would this be worth to your company? In a franchise type scenario, it may cost you thousands of dollars a month. With our business network, as long as you complete our training course, our network is free!!
What if I Don't Like Crime Scene Cleanup?
Although it's a crime scene cleanup network, it could just as easily be called a biohazard remediation network or an extreme cleaning network. The crime scene cleanup industry offers a number of services that don't require you or your team to clean crime & trauma scenes. As a matter of fact, Bio-Trauma 911 makes just as much money from hoarding cleanup and the remediation of sites that are full of animal feces, trash and debris. So, even if you're not planning to clean blood and body fluids, our network can be an important asset to your business and bottom line.
So Everything is Free?
Membership in our network is free. Listing your company through our directory is free as well. However, we do have some paid options that you can take advantage of. For example, we offer a business support package that runs $39.95 per month. We also have a business leads package that runs $43.00 per month.
More information about these packages can be found at courses.extremeremediation.com/collections
Who is this Program For?
Do you work in the crime scene cleanup industry? Are you a cleaning company or janitorial business looking for ways to bring more business to your company? Have you been searching for how to become a crime scene cleanup technician? Have you considered the fact that most hoarding jobs pay in excess of $6000? If you've answered "Yes" to any of these questions, this program is for you.
How Can the Network Help Me?
One of the biggest problems most companies in the crime scene cleanup & biohazard remediation industry have is keeping employees. Unfortunately, as most of us know, work in this industry is sporadic and inconsistent. Unless a company has diversified and is able to keep their employees actively employed during slow periods of work, chances are your employees will find more consistent work in another industry.
As part of our network, you'll have access to business owners throughout the United States (and one day abroad). Through these connections, you'll be able to partner with companies in your state or a neighboring state to help with large jobs. For example, our company just finished a $30,000 hoarding job in Northern Ohio. While we could have sent four of five technicians from Indiana, we chose to partner with one of our recent training course graduates who had a company in Ohio. It was a perfect scenario that allowed us to keep employees in Indiana to respond to local jobs and it afforded both of our companies the opportunity to make a respectable profit margin.
Bio-Trauma 911 (dba Extreme Remediation) receives calls for service on a daily basis. Often these calls come from areas we don't service. Additionally, we are increasing our advertising to cover the entire United States of America, which means more work in areas we don't service. But, this is GREAT for you! As these calls come into our office, we will send these potential jobs to companies like yours. You can then use your resources to secure the job, without paying us a thing (remember you're paying us $34.95 per month for leads).
Where Can I Learn More?
You may call us at 1-800-759-6960
Or, use the contact us button at the bottom right of this screen
Or, email us at Training@biotrauma911.com
Or, and probably the best option, visit us at Biohazard Remediation Training
Our network can be found at ERCA.Global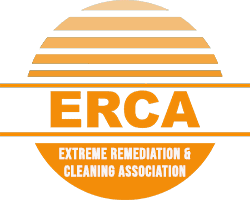 Memberships & Organizations